7-97 RS-R
The Rally Special – Radical, the wild sibling of the KALMAR 7-97 Classic
Standing for Rally Special-Radical, the KALMAR RS-R was born to be used on hard, rally-like adventures and extreme ice racing situations. Tailormade automotive perfection and built on a wealth of experience from global overland drives, ready to explore areas normally not visited by sports cars.
Using the 7-97 Classic's platform but increasing its off-road and wading ability, the RS-R is lifted for better ground clearance when hammering over harsh terrain or on a frozen lake. It uses the wide upper body shape from the 7-97 Classic, made of Kevlar instead of carbon fibre, as this car is meant to be used very hard. Large chunky off-road tyres and small-diameter wheels enhance traction on loose surfaces. Through learning by exploring, the team has engineered details of the RS-R for a supreme off-roading experience, whether on sand, snow or ice. The unending bespoke options that are available to each client ensure that the RS-R can provide a stunning performance on the road and in extreme conditions, too. Internally it has the name of the "Swiss Army Knife of cars".
All aspects of the KALMAR RS-R are included with the purposeful intention of amplifying the car's abilities off-road and materialising the customer's wishes. The RS-R simply enhances performance ability due to the lightweight nature of the material, while the iconic features of the original Porsche 911 still shine through the tailormade bodywork to merge classic design with modern-day functionality.
After being put to the test and utilised by KALMAR Beyond Adventure, KALMAR Automotive's sister company, the KALMAR RS-R is now fully prepared to be taken on any adventure that the owner wishes to go on. That includes acting as a day-to-day run-around vehicle if the customer chooses to live their everyday life in style or staying solely as an adventure or hobby rally car.
The Exterior
Built with the philosophy of a race and rally car in mind, the tailormade-for-adventure KALMAR RS-R has bodywork inspired by the KALMAR 7-97 Classic, with a 110 mm wider rear end than the original foundation car. The extra width allows for larger wheels and a wider track, which come together to increase traction and cornering ability, fit for rallying through all different terrain. The iconic ducktail-inspired rear spoiler provides function as well as a cosmetically aesthetic rear end, relocating the radiator and adding extra intake snorkels to feed the iconic air-cooled, rear-engined sports car with air, making it deliver effortless power to the rear wheels.
No ideas are left unexplored, with the KALMAR RS-R featuring lifted lower sections compared to the KALMAR 7-97 Classic to allow for more ground clearance, better attack angles and wider tyres. The chassis is fully seam welded for added strength to withstand the punishment from any harsh surfaces this car will meet if taken to its limits. At the same time, the team also welds an extra cross bar for increased rigidity and even more towing options to pull the RS-R out of tricky situations.
Weight reduction is an important element in the development and production of the KALMAR RS-R. To further explore the potential of this rally/adventure vehicle, it is areas like the lightweight exhaust system and windows, and the full Kevlar bodywork and carbon fibre roof that really make a difference in agility performance. The Kevlar used is an incredibly durable material that is able to withstand small impacts when exploring or rallying. While these elements support the race car dream, the KALMAR RS-R also comes with a custom-manufactured external combined impact protection and underbody holder, tubular roof-mounted combined tyre and jerry can carrier and front auxiliary light pod to prepare the driver for any and all conditions overland.
The Interior
Tailor-made for automotive perfection and built with extensive knowledge from global off-road drives, winter rallying and extreme exploring, the KALMAR RS-R's interior is fully bespoke to the client's individual taste and fit for any kind of adventures they desire to take the car on.
For a customer that dreams of a comfortable, stylistic KALMAR RS-R that can be used on the road for daily drives, KALMAR Automotive can utilise the same luxury found in the opulent KALMAR 7-97 Classic, with bespoke, premium leather seats, designed for those pleasant drives through the county lanes. On the flip side, the lightweight, extreme rallying version of the RS-R can be specified to have a completely stripped-out, spartan interior, with only the essential carbon fibre race seats and functionality elements in the cockpit.
Safety is extremely important to the KALMAR team, which offers several roll cage options, from a lightweight, rear-bolted system to a fully integrated cage designed for racing. Both options can be fully covered in leather or simply painted the exterior colour. When manufacturing the KALMAR RS-R, the only specification list the team has is that of the client's vision. The car gets built by hand with the customer's unique instructions from beginning to end. Professional navigation units are also available to add to the intelligent capabilities of the model.
The Technical Specifications
The entire drivetrain of the KALMAR RS-R is optimised for intense driving in the most extreme conditions and landscapes. The functionality of every RS-R's drivetrain is different, with the specialist knowledge of the KALMAR team producing results that benefit rallying and overland exploring.
The opportunities are endless when designing a KALMAR 7-97 Classic Coupé, Cabriolet or Targa, with options from KALMAR Automotive's all-new engine pairing. Two variants will be offered: the 'Base' and 'Triple-4'. Both variants offers a true 4.0-litre displacement achieved via a water-cooled 997-generation 4.0-litre crankshaft and bespoke piston design with inspiration from the current water-cooled engines from Porsche. Each variant comes as standard with an e-gas drive-by-wire system, KALMAR intake and bespoke sports exhaust. Naturally all moving parts will be new and all other parts will be better-than-new restored.
Both models are fitted with the unique KALMAR Automotive ECU with OBDII engine management system and remote access takes away most worries for the owner. Enlarged oil cooler set-up alongside the coil on plug ignition as they contribute towards further reliability, accommodating for high-speed running and increased horsepower. Utilising only the best-of-the-best materials and suppliers for a 'no-compromise' approach to increasing the overall performance of the car, the all-new engines will be delivered through all 7-97 Classic models from 2023.
The Base 4.0-litre engine has a single throttle body intake system matched to an in-house designed noise reducing air-filter system, dual mass flywheel and easy to maintain hydraulic lifters, all totalling ca. 345 hp and 385 Nm of torque, and revving up to 7000 rpm.
For those looking for more power and sound, the optional 'Triple-4' engine is built with drive-by-wire individual throttle bodies, mechanical lifters, a single mass flywheel, double oil cooler set up and the famous straight blade 993 Turbo fan for additional cooling; all needed to see the 'Triple-4' achieve +400 hp, 450 Nm of torque and a red line at 8000 rpm.
As always there are a large selection of individualisation options to tailor-make the engine to fit customer demands.
Whether the individual KALMAR RS-R needs off-road or rally-inspired suspension, the KALMAR team can apply it. The top-of-the-line KALMAR Automotive adaptive shock absorbers with optional front and rear lift functions allow for a ground clearance of over 25 cm for the extreme explorer and the adaptive shocks can be adjusted in several drive modes. Lowered subframes to make room for either the large, all-terrain or rally-winning World Rally Championship tyres. The RS-R also utilise the bespoke limited-slip differential and fully updated gear ratios to compete in any day-to-day, non-competition rally worldwide. The rear anti-rollbar is removed for additional wheel travel rear, and it comes standard with full rose-jointed suspension.
Despite lifting the car there will still be times when this is not enough and here comes the full aluminium Kevlar underbody protection in handy.
The list of included options is long on a KALMAR 7-97 RS-R, but there are some possible options such full hydraulic lift system and the optional 'Triple-4' engine. There are also some upgrade packages available.
An additional carbon fibre package including doors and roof
A full leather package where the backside of the front seats and whole rear inserts are covered in leather
Safety package with double airbag set up
All can be chosen and added dependent on the customers wishes and desired end finish of their 7-97 RS-R.
Options
With unlimited option combinations for each KALMAR 7-97, every customer commission is fully bespoke and comes with a personal process to coachbuild a dream car by hand. There's no configurator, there's not even a 'no' in KALMAR Automotive's vocabulary, just a passion to upcycle and re-engineer a 7-97 Classic to reach the overarching goal for the customer.
For the KALMAR 7-97 Classic Range, the optional extras list is significantly shorter than the list with standard equipment.
Standard Equipment
KALMAR 4.0-litre engine with 345 hp, bespoke ECU and full race spec. intake and coil on plug ignition system
Six-speed gearbox with limited slip differential (993 only)
KALMAR sports exhaust
KALMAR sports brake system
Bi-LED headlights
Glue-in glass
Electrical power steering and air conditioning
Sports wheels and tyres
Adaptive shock absorbers
Rain sensor, comfort indicator and hidden Hi-Fi system
Recaro Sport seats in top-tier, sustainably sourced leather
Explore to view the details
7-97 RS-R
Click the points, to view detail.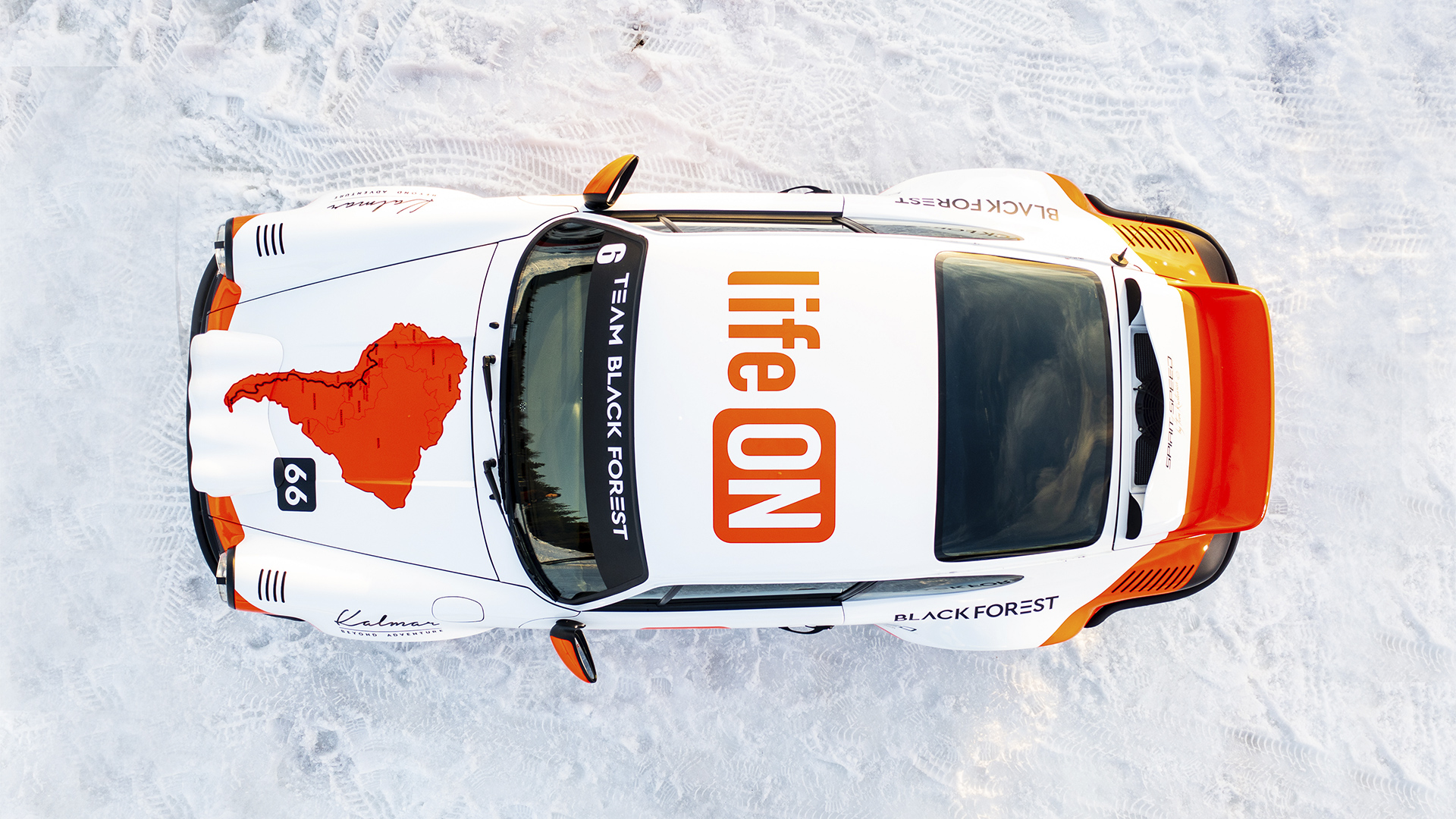 Beauty parts
Bi-LED headlights in external colour with rounded lenses
Glue-in lightweight Makrolon rear screens
Powder-coated beauty parts (front grilles, side mirrors, window surroundings, rear light edges, inside aluminium parts)
External colour-coded 993 door handles
Optional:
Sliding front side screens and 911-shaped light lenses
Safety package with double airbag set up
An additional Kevlar fibre package including doors and roof
A full leather package where the backside of the front seats and whole rear inserts are covered in leather
Wheels and tyres
Super lightweight magnesium 16-inch monoblock wheel with 215/65-16 Michelin Latitude Cross tyres
Body version
Kevlar body panels (bumpers, bonnet, engine cover, rear quarter panel, front fenders)
Steel roof with spare wheel holder and rear roll cage
Optional:
Sunroof removal
Kevlar doors and roof
Engine
KALMAR 4.0-litre engine with 345 hp, stand-alone ECU and full specification intake and ignition system
Dual mass flywheel and fully restored gearbox with upgraded limited slip differential and short shift gearstick
Optional:
KALMAR 'Triple-4' 4.0-litre engine, delivering 410 hp and 450 Nm of torque
Brakes
Porsche OEM brakes with power assistance
Interior
New Recaro Sport seats carefully covered in top-tier, sustainably-sourced leather/tartan/Alcantara
Hidden Bluetooth Hi-Fi system
Classic door sides with armrests and door pockets
Bespoke air condition control unit
Rear seat removal
Rear roll cage
Optional:
Full 7-97 Classic interior
Selection of seats to customer's wishes
Body parts
KALMAR ducktail
Aluminium one-piece front intake grill and indicator units
911 Cup side mirrors
Lifted lower parts of front and rear bumper
T45 steel external underbody holders
Kevlar underbody protection
Body panel air outlets
LED Rally light pod